Posted by Carpe Diem Beds on 1st Sep 2021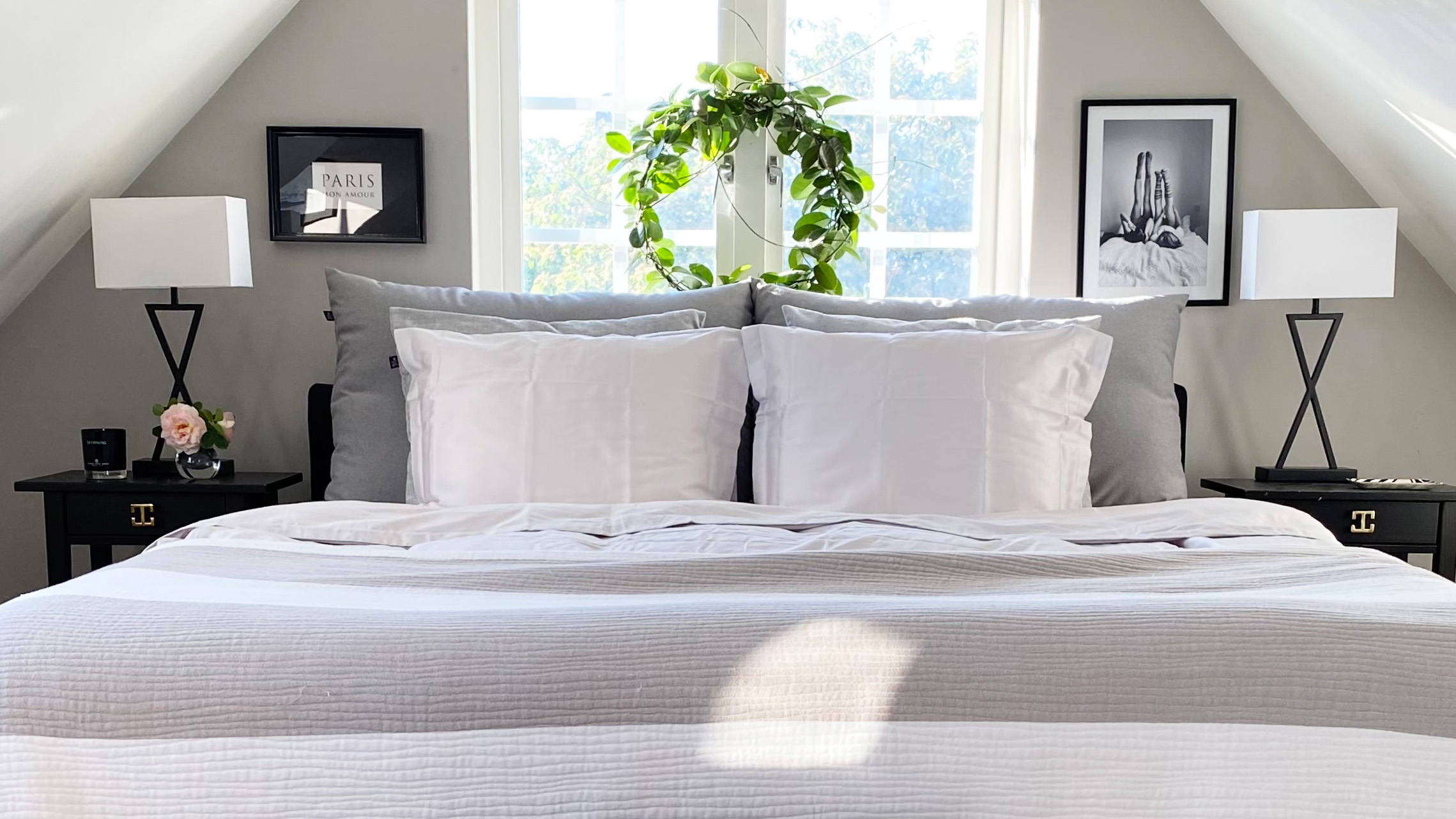 ---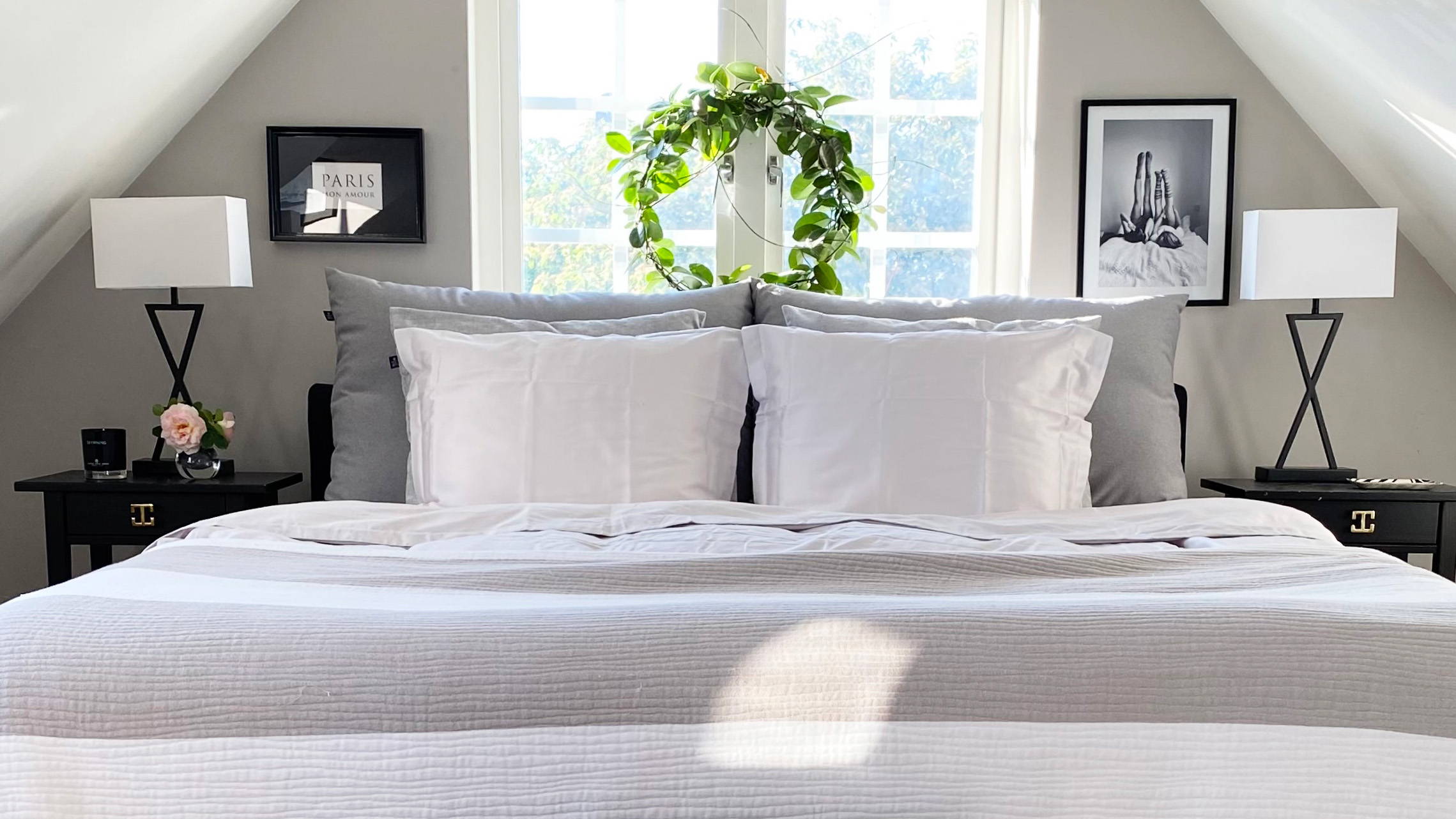 Jannice Wistrand is an interior designer, Feng Shui expert, and content creator who runs one of Sweden's most popular interior blogs. According to Feng Shui principles, how we furnish and design our living spaces can greatly affect our well-being.
See how Jannice has together with Carpe Diem Beds has created a harmonious, Feng Shui-approved bedroom oasis where relaxation is in focus.
---
Can you describe what feng shui is in simple terms?
Feng shui is a 3,000-year-old Eastern tradition. The basic concept is that we're affected by everything around us – colours, shapes, materials, furnishing, flow and tidiness.By furnishing with intention and understanding how all of these components impact us, and by using the tools of Feng Shui, we can create rooms that have a positive impact on our well-being.
Feng Shui is about bringing simplicity into your life without necessarily being minimalistic. The interplay between the environment around us and how we feel inside results in better well-being. The main idea behind a beautiful space isn't the style – it's the balance between the person and their surroundings.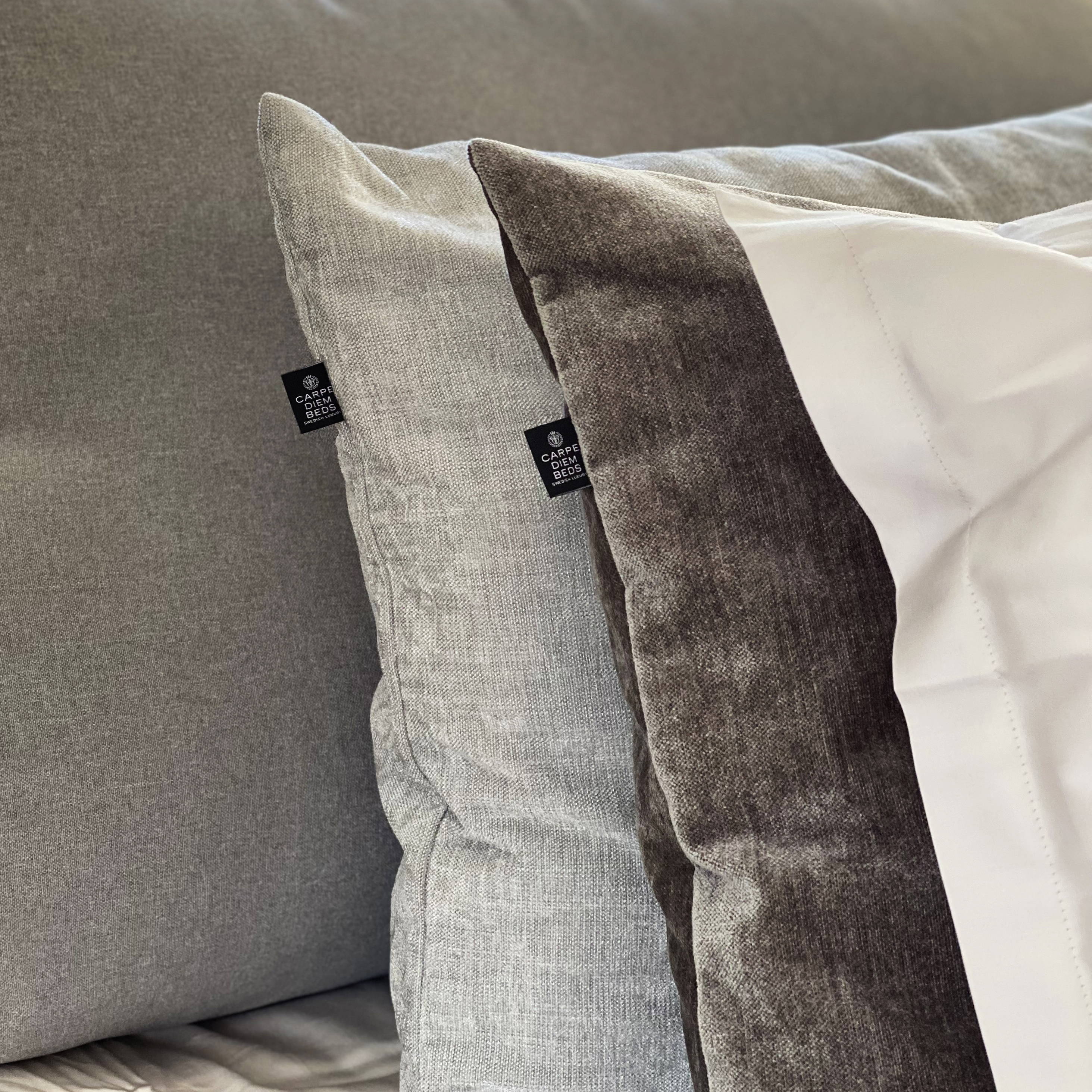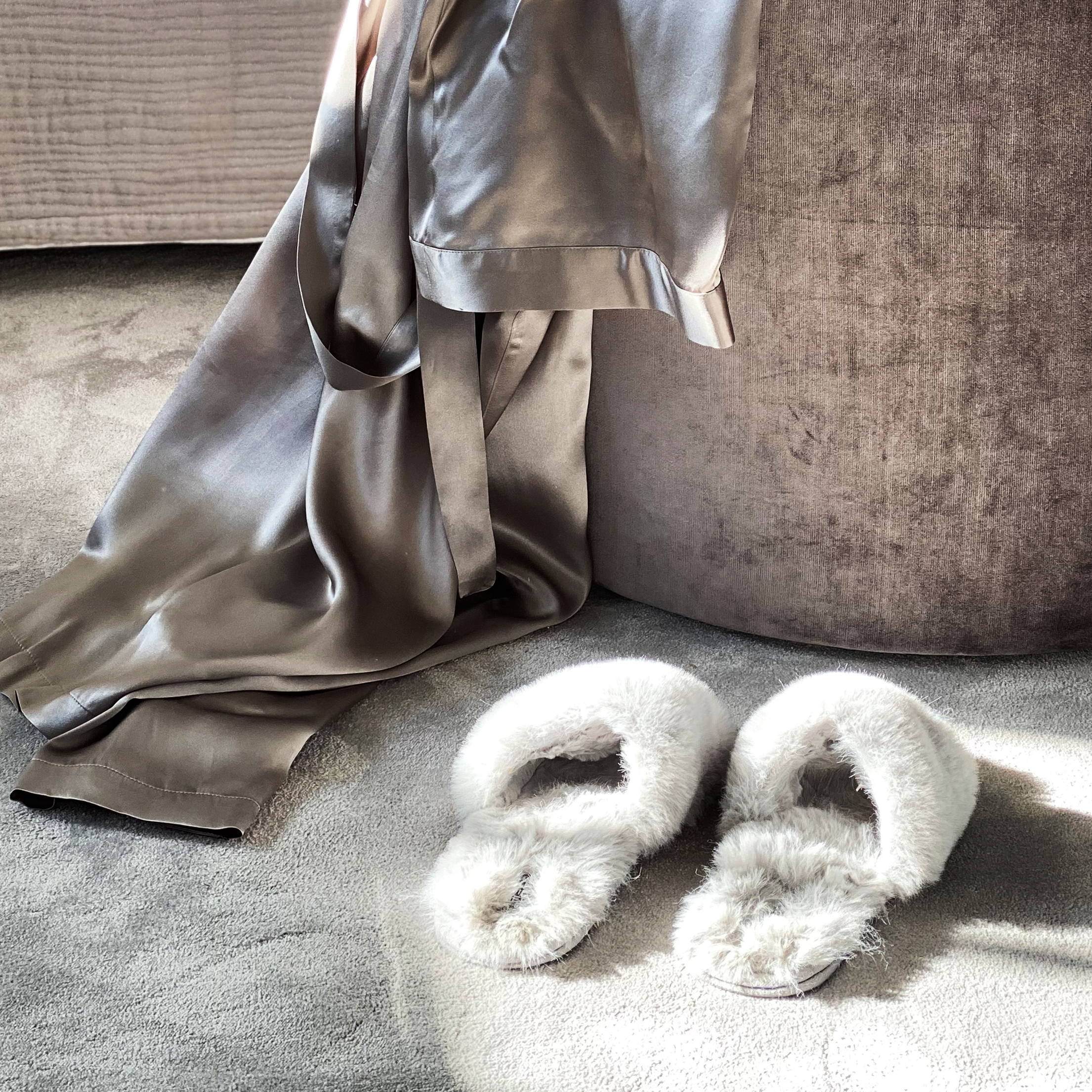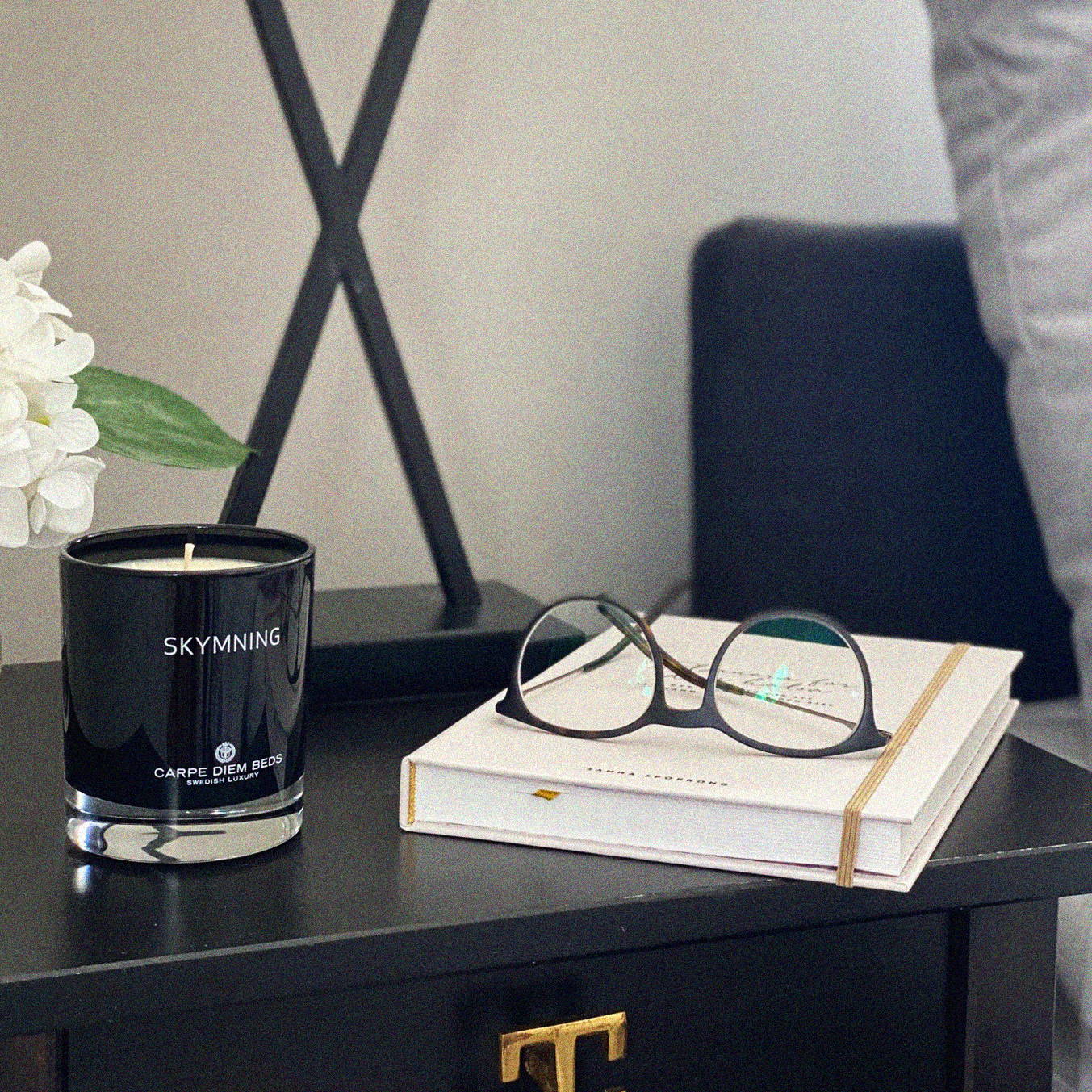 ---
How did you become interested in Feng Shui?
I've always been interested in interior design and beauty. And I've always found that when things are tidy, beautiful, and create a sense of harmony, it has a positive effect on me. When I was studying business and economics, I took a class in behavioural science, and that gave me a better understanding of how colour and form affect us. I've also always been interested in psychology and how we're affected by our surroundings. The combination of interior design, behavioural science and psychology piqued my interest outside of school.
When I read about Feng Shui in an interior design book while I was studying at university, I had an 'aha' moment – there were so many sensible, matter-of-course ideas and concepts about how we really do react in a certain way. Like the fact that we can use a room's furnishings to create a sense of security, and how that's connected to our brains since the days of living on the savanna.
First I used one of the tools of Feng Shui, the five elements. I designed my rooms accordingly and had an 'aha' moment. Having all of the elements represented made such a difference. And that's how my interest got started. However, the decision to become a Feng Shui consultant and a certified interior designer came later on, after I developed a chronic illness and I had to restructure my life.
How did you create a Feng Shui-approved bedroom?
Our bedroom is upstairs, where we have a sloped ceiling. Instead of squeezing the bed underneath the sloped ceiling, which would create a crowded, cave-like feeling, we've placed the bed under the highest point of the ceiling. As a result, we have a window at the head of our bed, which isn't ideal. But because our bedroom is on the top floor, its location is still in a commanding position that feels secure, with nothing threatening; we can see all of the room's doors and entrances.
We use big cushions to create a sense of calm and tranquillity, and books to invite a moment of relaxation. We have roller blinds and curtains that we close at bedtime, which soothes the flow in the room and reduces worry.
We use light, neutral, relaxing colours. And we use concealed storage; only beautiful items are out in the open, and they create a feeling of rest.
We have a soft rug on the floor for our feet when we get up.And comfy sheets against our skin create a luxurious place of rest.
A soft robe and fuzzy slippers to slide your feet into when it's time to go down for your morning cup of coffee make a huge difference in how your day begins.
I've used all of these components to make our bedroom the best it can be for our circumstances: furniture, colours, flow, good lighting for reading that's also dimmable for a softer mood.Scented candles that help set the mood, something to wake us up in the morning and decompress in the evening. Tactile qualities against the skin and cherished objects that create a sense of well-being. We have concealed storage and no television, so that we're surrounded by soft values that allow us to take things in on our terms, rather than being overwhelmed by impressions.
All of these details together create a harmonious space for well-being and recovery, where every choice helps maximize the restfulness of the room.
---
---
---
Kan du enkelt beskriva vad Feng Shui är?
Feng Shui är en 3000 år gammal österländsk lära. Den grundläggande tanken är att vi påverkas av allt runtomkring oss – färger, former, material, möblering, flöden och ordning. Genom att inreda medvetet och förstå hur vi påverkas av alla dessa beståndsdelar och använda Feng Shuins verktyg kan vi skapa rum så de berör oss, som upplevs, känns, som påvekar oss positivt och där välbefinnande är det centrala.
Feng Shui handlar om (att skapa) enkelhet i livet utan att för den skull vara minimalistisk. Att samspelet mellan den yttre miljön och den inre känslan ger ett ökat välmående. Huvudtanken med en vacker miljö är inte stilen, utan balansen mellan människan och dess omgivning.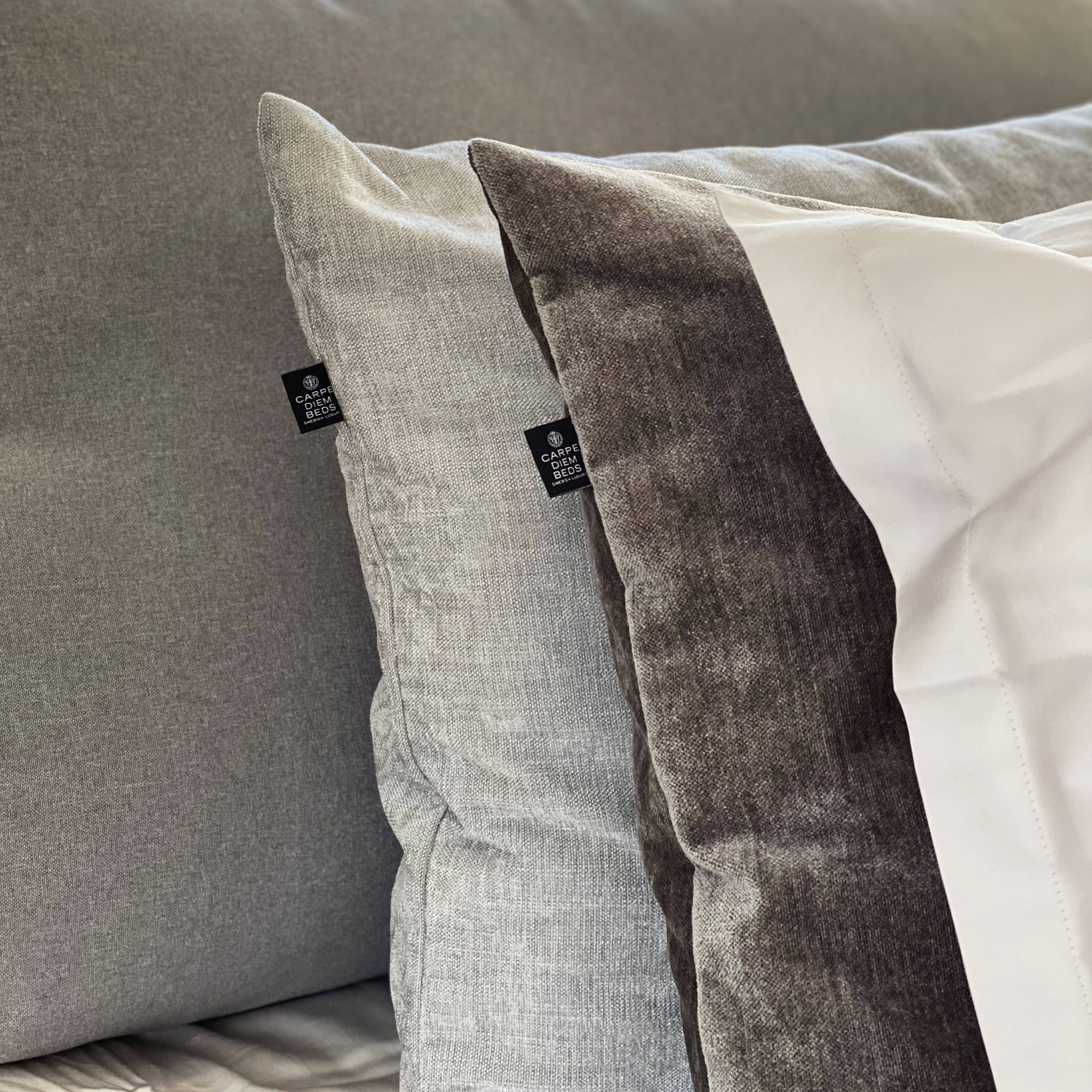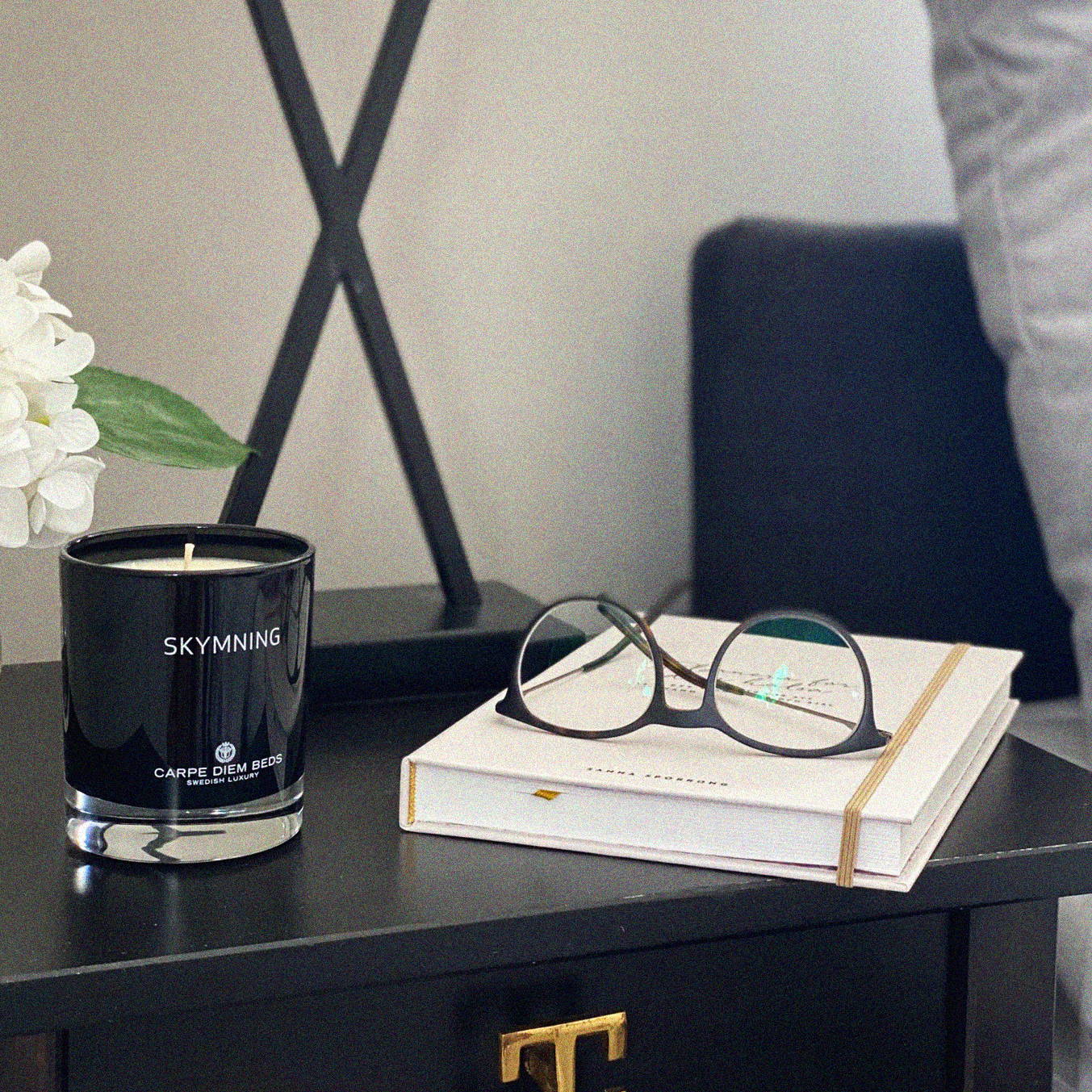 ---
Hur blev du intresserad av Feng Shui?
Jag har alltid varit intresserad av inredning och skönhet. Har alltid känt att god ordning, skönhet och vackra ting som skapar harmoni påverkar mig positivt. I min utbildning till Civilekonom läste jag beteendevetenskap och fick mer förståelse om hur vi påverkas av färg och form. Jag har också alltid varit intresserad av psykologi och hur vi påverkas av våra omgivningar. Kombinationen mellan inredning, beteendekunskap och psykologi väckte mitt intresse vid sidan om skolan.
När jag sedan kom i kontakt med Feng Shui genom en inredningsbok, fick jag en aha upplevelse under mina studier på universitetet. Så mycket självklara saker och sunda idéer om hur vi faktiskt reagerar på ett visst sätt. Att vi kan skapa trygghet genom en möblering och hur det är kopplat till våra hjärnor, sedan vi befann oss på Savannen.
Jag använde först ett av Feng Shuins verktyg, de 5 elementen och inredde mina rum efter det och fick en aha-upplevelse. Sådan skillnad det blev när alla dessa element var representerade. Och så väcktes mitt intresse. När jag senare i livet fick en kronisk sjukdom och behövde lägga om mitt liv, bestämde jag mig för att läsa till Feng Shui konsult och utveckla mitt inredningsintresese och utbildade mig även till cert inredare.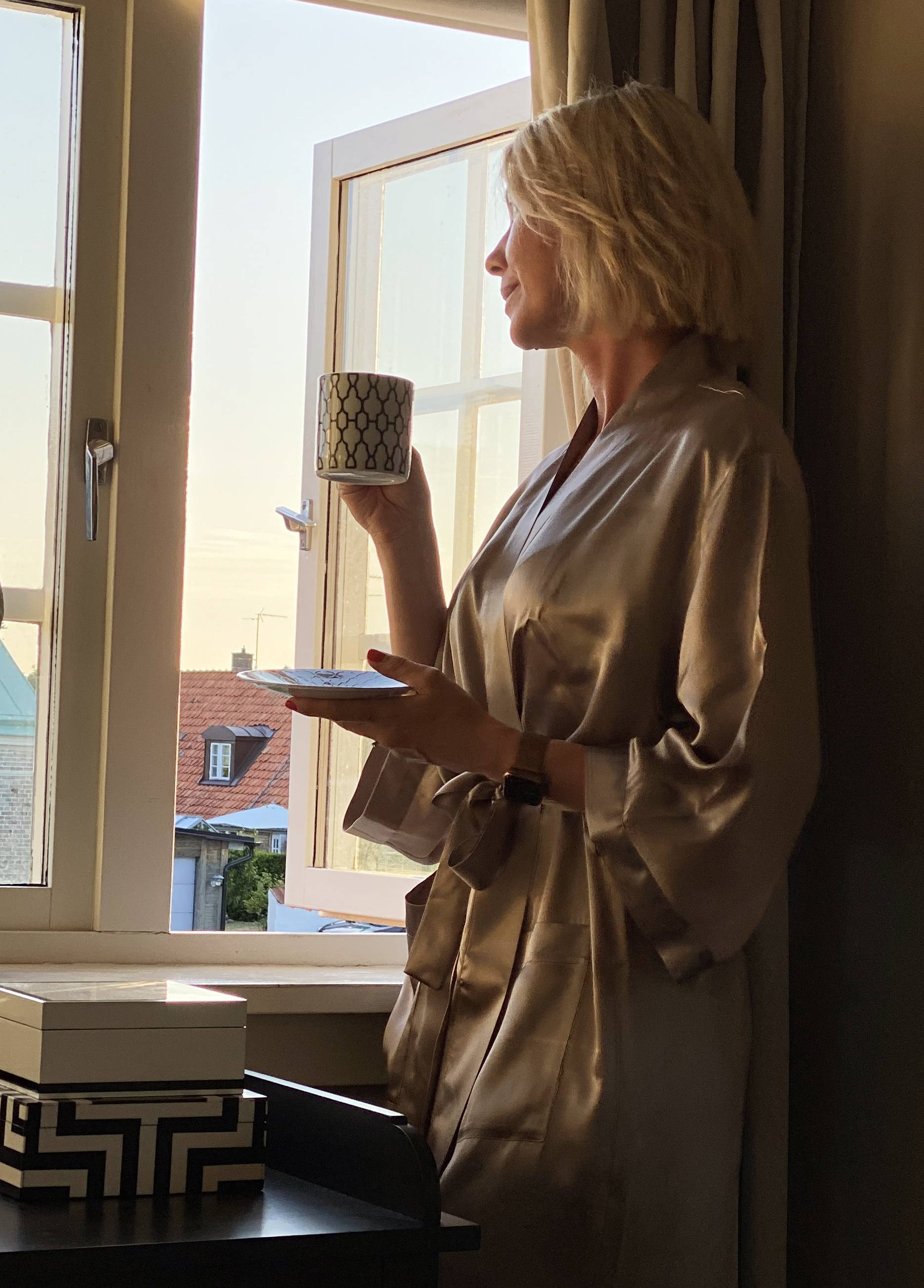 ---
Hur har du skapat bra Feng Shui i ditt sovrum?
Vi har vårt sovrum på övervåningen vilket ger oss snedtak. Vi har istället för att trycka in sängen under snedtaket, vilket kan kännas tryckande instängt, har vi möblerat sängen vid högsta punkt. Detta har gjort att vi har ett fönster vid huvudändan, vilket får platsen att upplevas i kraftposition och trygg då vi har koll på rummets dörrar och ingångar.
Stora kuddar skapar lugn och trygghet, och inbjuder till en sköns stunds vila med en bok. En rullgardin och gardiner som dras ner vid läggdags gör att rummets flöden lugnas och minskar oro.
Ljusa neutrala färger omhuldar och inbjuder till avkoppling. Dold förvaring där endast vackra ting visas och inbjuder till vila.
En matta på golvet att sätta fötterna på ger en mjuk känsla när man går upp. Sköna lakan mot huden känns lyxigt att få vila i.
En mjuk morgonrock och fluffiga tofflor att sätta fötterna i när man ska ner och hämta dagens första kopp kaffe, gör stor skillnad för hur dagen startar.
Jag har använt mig av alla beståndsdelar för att göra vårt sovrum till det absolut bästa utefter de förutsättningar vi har. Möblering, färgsättning flöden, bra belysning som både går att läsa till eller dimma för mysbelysning. Doftljus som hjälper till att finna stämning, morgon som piggar upp, kvällstid som ger en avkopplande känsla. Taktilitet mot hud och omhuldande ting som skapar välbefinnande . En dold förvaring och avsaknad av TV för att endast beröras av mjuka värden där man intar själv istället för att bli matad med intryck.
Alla dessa detaljer tillsammans bidrar till ett harmoniskt rum där välbefinnande och återhämtning är det centrala och där varje val hjälper till att skapa maximal vila.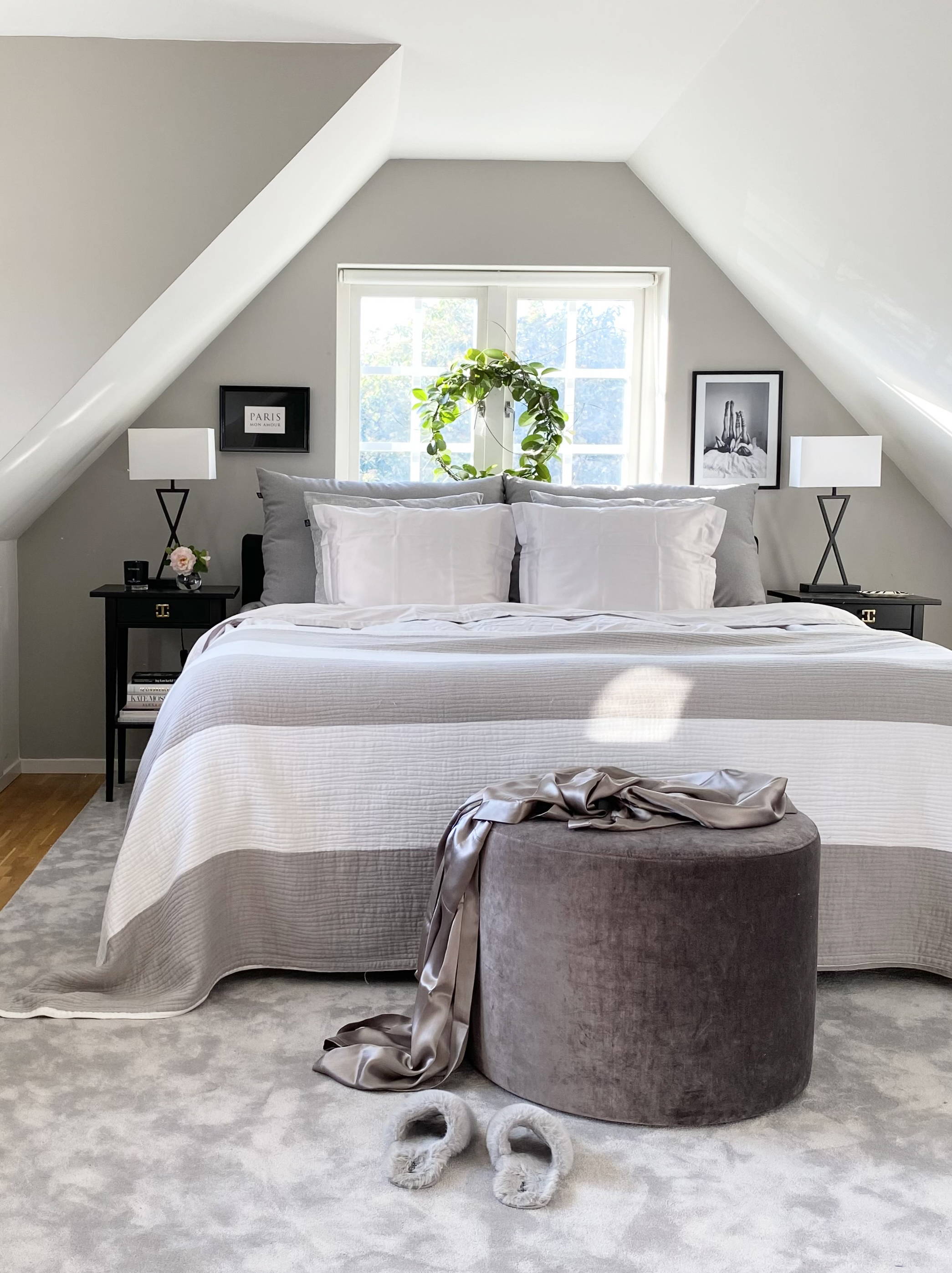 ---